mobiTable for WordPress
Instructions
Plugin Installation Directions:
Upload the plugin files to the "/wp-content/plugins/mobitable" directory, or install the plugin through the WordPress plugins screen directly.
Then in WordPress go to "Plugins" and activate it.
Usage Directions:
To start using mobiTable once activated, do the following:
Simply wrap your table code in a div with a unique class name. See below "Table HTML" code example in "blue color"
Go to "Settings", then select "mobiTable" and add the class name to the "Table class names" field. If you have more than one table, add them with a separator by comma. Example "mytable1, mytable2, mytable3"
Theme your table by adding the colors for the "Nav arrows colors", "Nav backgrouund color" and the tables "Border color". Use the "Web Color Chart" to the right to pick custom colors or add your own.
Set a mobile trigger width. This triggers your table to convert to a mobiTable when the width is equal to and below a set screen width size. A common size is "768" and "480"
Save changes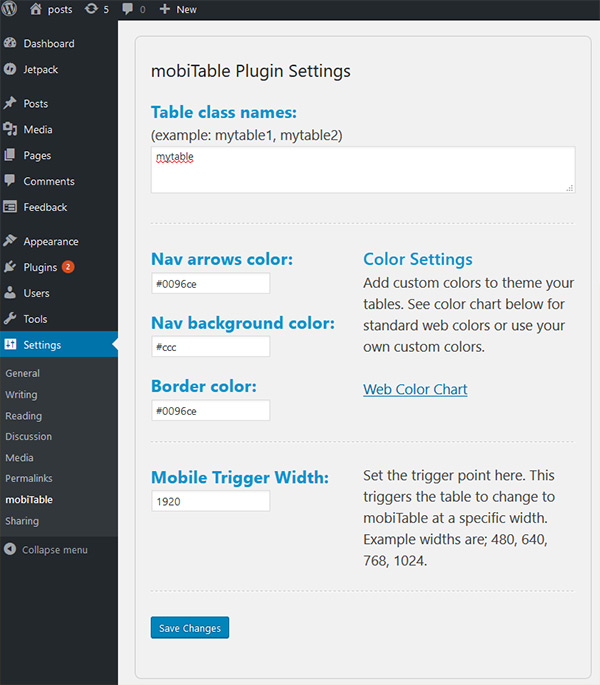 Table HTML



<div class='mytable'>

 

<table cellpadding='0' cellspacing='0'> 
<tbody>


<tr>
<th> Heading 1 </th>
<th> Heading 2 </th>
<th> Heading 3 </th>
</tr>


<tr>
<td> example 1 </td>
<td> example 2 </td>
<td> example 3 </td>
</tr>
</tbody>
</table>



</div>



* Helpful Tips

Your tables need to have "< th >" headings in order for this to work. See above HTML code example of a tables header code in the color yellow.
This will only work with raw-data tables, meaning no html code like image tags or formating within. Use CSS parent and sibling selectors to further format via CSS file. You can even add specifc class names to your table rows and columns for more formating options, of course this requires knowledge of HTML/CSS.
Plugin Info:
Version: 0.2 (Beta) - Available soon on WordPress Plugin Repository
Pluign Type: jQuery/WordPress
Last Update: 01/22/2017
License: GNU General Public License
Author: Mark Hawkins