busnHours lets you add a business hours section via shortcode to your contact page or any web page or section of your WordPress website easily with a highlighted and animated notices such as "Almost Open", "Just Opened", "Open Now" , "Closing Soon", "Just Closed" "Closed Now" in a frequency of 15 minutes prior, during and after. Each notice is appended to each day of the week during your business hours. busnHours is mobile responsive and provides better usability by notifiying your customers if your currently open or closed.
busnHours is currently free for a limited time. Future updates and addtions will require a one time payment or anual subscription. busnHours only supports business hours from 6:00 am to 10:00pm only.
Directions
Install manually by adding the plugin folder "bsnhours" and its content to "your_wordpress_folder/wp-content/plugins/"
Login to your admin area and select plugins and "Activate"
Go to the "Settings" menu and select "busnHours"
For "Your Time Zone" select from the dropdown menu example for America, Pacific Time Zone = "America/Los_Angeles", Mountain Time Zone = "America/Denver", Central Time Zone = "America/Chicago" and Eastern Time Zone = "America/New_York" A future update of this plugin will include a chart for the world.
Set "Your Busines Hours" times your open and closed at. If your Closed on a specific day like Sunday and Saturday, select "Closed" for both open and closed hours.
Customize your busnHours highighting by adding your own custom hex color code or color name such as red, blue, green etc.
Now on your contact page or any other part of the site you'd like your busnHours module to show up, add the shrtcode "[busnhours]"
busnHours Display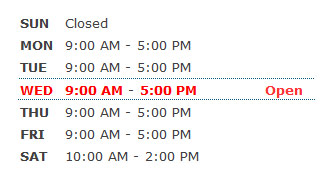 bsusnHours Settings in WordPress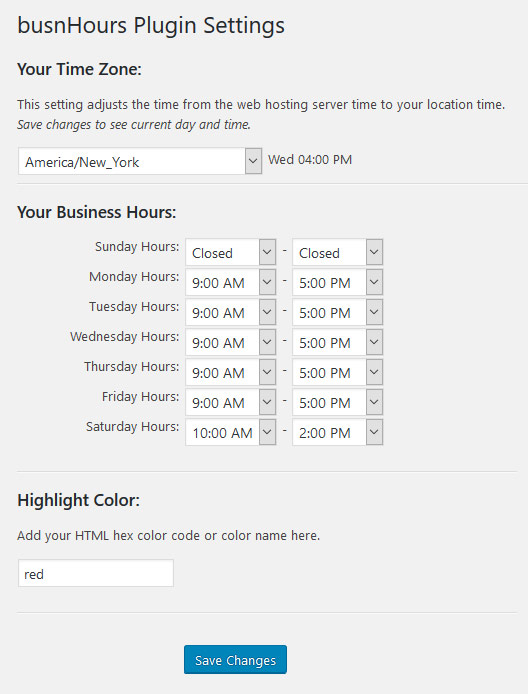 Plugin Info:
Version: 0.1 (beta) - Available soon on WordPress Plugin Repository
Pluign Type: WordPress
Creation Date: 04/26/2017
Last Update: 04/26/2017
Author: Mark Hawkins